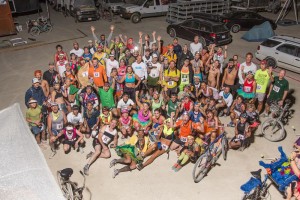 Cherie Yanek is a competitive ultarunner and Race Director Living in Brooklyn, New York. A long-time member of North Brooklyn Runners, she is the Event Coordinator, hosting and programming educational events for runner. She is the Race Director of the wildly-popular Burning Man Ultramarathon, puts on the occasional fatass race, and she enjoys eating cookies while running. Her favorite distance is 50 miles, and her favorite timed-race is 24 hours.
She is an ambassador for Skirt Sports, Dirtbag Runners (Core Member and Editor as well), and Endurance Tap.
Laugh your way through this podcast Cherie did with Accuracy Third about the Burning Man Ultra. Check out the interview Cherie did with rundaddio.com about ultrarunning and the Burning Man Ultramarathon! And go real old-school with this Ultrarunner Podcast interview Cherie did with URP.
RACE RESUME
I have been running since I was 13. I won my first race, the 400 meters. After, I threw up my breakfast (scrambled eggs with cheese – thanks, Mom!) and soon learned what constitutes good running fuel.
Now, I prefer longer races than 400 meters – my favorite races are 24 hour races and 50 milers. I love trails, beautiful places to run, fast places to run, and places where there are lots of my friends to enjoy before, during and after the run.
I am known for being friendly and cheerful, and wearing pink. Sometimes, I run in tutus, and even graced the autumn cover of New York Runner magazine for my tutu-wearing finish in the Brooklyn Half Marathon, and made a very popular internet image for Runners' World with my 2014 New York City Marathon finish.
I also am the race director of the Burning Man 50k. Despite the existence of a 5k at Burning Man (which I have won twice and placed second twice), I knew that was that an ultramarathon was needed. I created a niche event, what I call "the most fun race." The event draws in a unique crowd to Burning Man, and has created a wonderful community of runners in a very unusual place.
Podium Performances:
Crotan 24 Hour – 109.58 miles, 2nd woman – November 7, 2013
24 Hours The Hard Way USATF National Championships – 115.59 miles 2nd USATF woman, 3rd woman overall – October 26, 2013
Ted Corbitt 24 Hours – 109.64 miles – 2nd woman – October 5, 2013
Finger Lakes Fifties 50 Miler – 10:02:34 – 2nd woman – July 6, 2013
Jack Bristol Lake Waramug 50 Miler – 8:31:10 – 2nd woman – April 21, 2013
Broadway Ultra Society 3 Hour – 18.40 miles – 1st woman – April 6, 2013
Operation Endurance 24 Hour – 87.56 miles – 1st woman – March 30, 2013
Iron Horse 100k – 11:54:42 – 2nd woman – February 9, 2013
Cajun Coyote 100 miler – 1st woman – 23:01 – December 1, 2012
Croatan 24 Hour – 104.87 miles – 1st woman – November 10, 2012
6 Hour Birthday Run – 34.88 miles – 3rd woman – October 14, 2012
JW Corbett 50 Miler – 10:14:58 – 1st woman – September 22, 2012
LI Greenbelt Trail 50k – 5:55:45 – 3rd woman – May 12, 2012
Cajun Coyote 100 Miler – 25:21:00 – 2nd woman – December 3, 2011
Febapple Frozen Fifty 50k – 10:40:12 – 3rd woman – February 19, 2011
Burning Man Ultramarathon – 5:34:00 – 1st woman – September 1, 2010
Dances with Dirt Green Swamp 50 Miler – 10:16:59 – 3rd woman – February 13, 2010