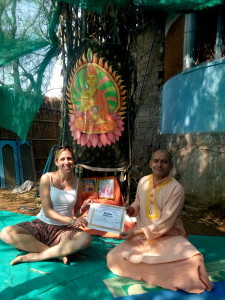 Cherie teaches…
Tuesdays, 6:00pm, Reiki Flow & Restore, at Awakening in Greenpoint, Brooklyn
Sundays, 10:00am, Reiki Flow & Restore, at Awakening in Greenpoint, Brooklyn
Curious what a yoga class with Cherie is like? Check out this article in Yoga City about a class with Cherie.
Cherie works with private clients via Handstand and privately; inquire for pricing and details. 
Like Cherie Yanek Yoga on Facebook to follow along with sub dates, interesting yoga news, and more!
Cherie Yanek received her 200 hour Yoga Teacher Training certification in February 2016 in Goa, India, training under Hannah Harpole and Amanda Capobianco. She has been practicing yoga on and off since she was a child.
Cherie spent the first four months of 2016, studying yoga with various teachers around India and Nepal. She teaches hatha vinyassa yoga, but has studied Kundalini, Iyengar, and Ashtanga (Primary Series) in the U.S., India, and Nepal. Her practice combines pranayama, meditation, mantras, and intention-setting, and thinks of yoga as a lifestyle, not simply an exercise practice.
In 2017, she returned to India to study at Kaivalyadhama Ashram, where she studied for her 85 hour Prenatal Yoga Teacher Training certification.
She is excited to combine her love of yoga with her knowledge of running in crafting running-specific yoga workshops.
Related Education:
Reiki I Certification
Swami Yogeshwara, Hampi, India (February 2016)
200 hour Registered Yoga Teacher (RYT) Certification
Amanda Capobianco and Hannah Harpole, Arambol, India (February 2016)
Kundalini Retreat, Braham Yoga, Rishikesh, India (March 2016)
Yoga Intensive Vacation, Sivananda Yoga, Madurai Meenakshi Ashram Campus, India (April 2016)
Yoga Intensive Ashtanga Retreat, Kranti Yoga, Palolem Beach, Goa, India (April 2016)
Restorative Yoga 20 Intensive, Yoga Haven, Scarsdale, New York (May 2016)
Red Cross First Aid/CPR/AED, New York, NY (June 2016)
Prenatal Yoga Teacher Training, Kaivalyadhama Ashram, Lonavla, India (March 2017)
Yin Yoga Foundations with Yin Founder Paulie Zink, Kripalu, MA (July-August 2017)
Empowering Life's Vision Through Anusara Yoga, Kripalu, MA (July-August 2017)